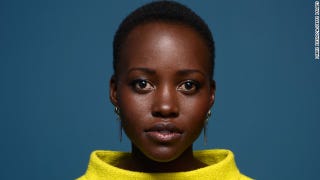 This week's issue of Entertainment Weekly contains a blurb in the magazine's "Hollywood Insider" section titled, How Will Lupita's Star Rise?
Unfortunately, I was unable to find an online version of the blurb, but here's a transcription (Nicole Sperling, Entertainment Weekly Magazine, Issue Number 1304):
"It's been nearly three weeks since Lupita Nyong'o won a Best Supporting Actress Oscar for her performance in 12 Years a Slave. It wasn't just her acting chops that seized everyone's attention: the 31-year-old dazzled throughout awards season with her graceful presence, thoughtful interviews, and stunning fashion sense. Now everyone wants to see that promise pay off. 'Obviously, she is a remarkable actress,' says one Oscar-nominated director. 'I think it's more a question of how open we are a society to a [black] leading lady. You would hope she'd be offered the same parts as Jennifer Lawrence.'

Those rooting for Nyong'o are waiting for a J-Law-sized career bump. She recently lost out on the part of Tiger Lily to Rooney Mara in Warner Bros.' adaptation of Peter Pan. And while she has reportedly met with Star Wars director JJ Abrams, there's no word on any definite role. Audiences undoubtedly *want* to see Nyong'o succeed in as big a way as possible: An online petition began circulating last week demanding that Marvel cast Nyong'o as a young Storm in a future X-Men Origins movie. For most actors — think Lawrence, Natalie Portman, or Christian Bale — an Oscar win propels them to the top of any casting list. But for others, whose race, age, or body type doesn't fit neatly into Hollywood's very narrow boxes, that statuette doesn't carry as much force. The question remains for many: Can this beautiful, young, talented actress become an A-List movie star?

One talent agent we spoke to thought Nyong'o would ultimately find a creative home on television, similar to fellow Oscar winners and nominees Octavia Spencer, Melisa Leo, Jacki Weaver, and Vera Farmiga. 'In a couple years, Lupita will be number one on a call sheet on a television show,' says the agent. 'Ten years ago, she wouldn't have been there, so that has improved.' Yet, 12 Years producer Dede Gardner, for one, is confident that Lupita's film career will be as captivating as her red-carpet looks. Crucially, she says, the results could depend more on Hollywood's decisions than Nyong'o's. 'Do I think there will be as many choices for her under the current metric system? No,' says Gardner. 'But that's on us. If we can't figure out our way around creating and supporting narrative [sic] that accommodates all this talent that is oozing out of every corner, then we, frankly, have failed at our jobs.'" (emphasis mine)
I know many of us are absolutely smitten with Lupita and are among those who want to see her succeed. We've pretty much voiced the same concerns as those expressed in this blurb, both on GT and on the MP. Ergo, I find it refreshing that a publication like EW would take the time to point out this conundrum of having an amazing actress in very real danger of being overlooked and forgotten simply because of what she looks like. Even if it only points at the problem with out offering any real solution.
Perhaps in bringing attention to the problem, studio heads and filmmakers will finally be shamed into making projects with more diverse casts and unconventional leads. Then again, if Bridesmaids, The Heat, Gravity, Zero Dark Thirty, The Help, and the entire Hunger Games franchise can't convince old, white men that women-led films are worth investing in, then perhaps I'm a little naive in thinking EW might actually shame the status quo into changing.